Singer-songwriter/actress Dolly Parton announced today in a video on Instagram that she's launching a line of dog toys, accessories, and apparel, called Doggy Parton. The line sells exclusively on Amazon and includes everything from a Black Microphone Toy to Pink Dress, Guitar and a blonde wig set.
While announcing her new pet line, the iconic entertainer shared: "Puppy Love was my very first record, and six decades later, my love for pets is stronger than ever. This inspired me to start my own line of Doggy Parton apparel, accessories, toys, and more, with a little Dolly flair."
A portion of "Doggy Parton" profits will be donated to Willa B Farm, an animal rescue center where "animals in need find never-ending love." The non-profit is based in Parton's home state of Tennessee. Willa B Farm rescues and rehabilitates animals of all different kinds with loving care. In the words of Dolly, "Don't we all need that?"
For now, the collection is only available to shop on Amazon. The official website DoggyParton.com is coming soon
She has more than twenty items, including toy guitars, a pink dress, pink cowgirl hats with tiara, and blonde bombshell wigs.
With prices for most items between $10 to $25, many items have already sold out.
Dolly Parton's new dog toys and clothing brand "Doggy Parton" inspired by her beloved Boston Terrier, Popeye, who she claims saved her from a near-suicide attempt.
She opened up about how she nearly attempted suicide when she was 17 years old in an exclusive cover story for the new biography Dolly On Dolly: Interviews and Encounters with Dolly Parton.
Dolly said she had been contemplating whether to pull the trigger of a loaded gun when her dog, Popeye, ran up the stairs and into her room.
She said: "I was sitting upstairs in my bedroom one afternoon when I noticed in the nightstand drawer my gun that I keep for burglars."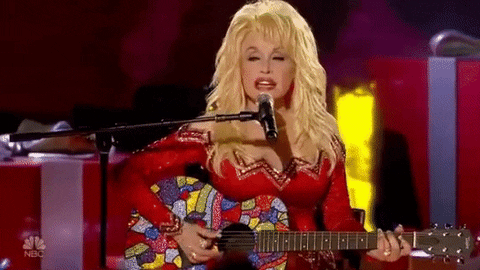 "I looked at it a long time… Then, just as I picked it up, just to hold it and look at it for a moment, our little dog, Popeye, came running up the stairs."
"The tap-tap-tap of his paws jolted me back to reality I suddenly froze. I put the gun down. Then I prayed."
Dolly believed her dog's intervention was a sign from God.
"I kind of think Popeye was a spiritual messeng­er from God."
"I don't think I'd have done it, killed myself, but I can't say for sure. Now that I've gone through that terrible moment, I can certainly understand the possibilities even for someone solid like me if the pain gets bad enough."
If you or someone you know is having thoughts of suicide
Please call the National Suicide Prevention Lifeline at 1-800-273-8255, or if you don't feel like speaking, just text TALK to the Crisis Text Line at 741741.