There's something about Halloween that just makes us feel alive. Whether it be dressing up in costume, going trick-or-treating with friends and family, or getting together to watch scary movies under blankets – we love this time of year!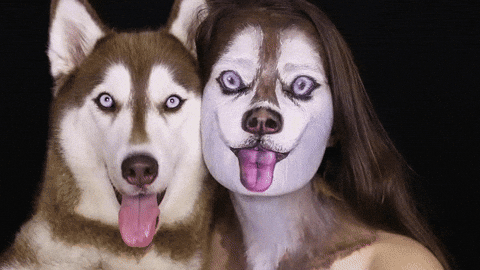 And while some people may think only humans celebrate "All Hallows Eve," there is no doubt our dogs have fun too – as proven by these adorable photos online showing them decked out from head (and tail) to toe like their favorite characters, movie themes, and superheroes/supervillains… alongside owners who aren't afraid share their photos giving the rest of us plenty of opportunities for laughter and enjoyment.
We have put together a list of our favorite pet and owner Halloween costumes to give you some ideas for your costumes this year and ensure that you have a spooktacular Halloween. Trick or Treat!
"Hi There! My name is Doug. I have just met you, and I love you." An awesome Carl and Doug from Disney's Up
Royalty could be big this Halloween. Melissa McCarthy rocks the Queen
Shwing! Party On, Garth! This most excellent costume combo from a former Miss Delaware and her dog
Welcome to the greatest show on earth. This looks like the tamest lion I've ever seen
We've got to bend the knee to this Game Of Thrones costume
A devilishly good idea for a costume
Magic Mirror on the wall, who is the fairest one of all? Obviously, this Snow White and Evil Queen combo
Creepy, kooky, and terrifying. This is what crazy dog love looks like
Welcome to the winners circle with this adorable jockey and race horse
A Golden Retriever dressed as the Beast from Beauty and the Beast can "Be Our Guest" to top the list for family and dog costumes
We lost our head over this Sleepy Hollow costume
I could just eat up this Super Mario and Pac Man costume
I live for furs darling. Cruella and her terrified (or terrifying) 'dalmatian'
Phone home. This Elliot and E.T. costume is simple and perfect for last minute ideas
The cutest Little Red Riding Hood and the Big Bad Wolf costume we've ever seen
This Mary Poppins and Penguin dance family costume is "Practically Perfect In Every Way."
A "Tail" as old as time. Another clever Beauty and the Beast themed family costume and "if it's not Baroque, don't fix it."
"There's more to life than scaring." This Monsters Inc. family theme is so cute, especially for Mom.
Happy Halloween from Peter Pan, Wendy, and the most adorable Captain Hook, and little crocodile you've ever seen!
Oh, bother. Winnie the Pooh, Tigger, Piglet, and the saddest looking Eeyore I've ever seen
Yabba Dabba Doo! Meet the Flintstones with Wilma & Fred Flinstone, and a precious Barney & Betty Rubble
Good grief Charlie Brown. In this family the whole Peanuts Gang is ready for the Great Pumpkin
Princess Leia and the most adorable 'walking carpet' Chewbacca you will ever meet
Size matters not. Look at me. The force is strong with this Yoda and Ewok family
Join me and we can rule Halloween. More Star Wars inspired family costumes
It's no mystery that Scooby Dooby Doo is a big Halloween hit. Hey Scooby is that you?
The Bark Knight Rises – Batman and Robin costumes for the family
I'll get you my pretty. Are you a good witch or a bad witch? The Wizard of Oz is perfect fit for family and dog
No hotdog is complete without the ketchup and mustard
What family and dog costume idea was your favorite? Do you have some others you want to share with us? Let us know in the comment section below.